We study and characterize the statistical properties of timbral encodings, here called timbral code-words. In particular, we report on rank-frequency distributions of timbral code-words from disparate sources such as speech, music, and environmental sounds. Analogously to text corpora, we find a heavy-tailed Zipfian distribution with exponent close to one. Importantly, this distribution is found independently of different encoding decisions and regardless of the audio source. Further analysis reveals that the most frequent code-words tend to have a more homogeneous structure. We also find that speech and music databases have specific, distinctive code-words while, in the case of the environmental sounds, this database-specific code-words are not present. Finally, we show that a Yule-Simon process with memory provides a reasonable quantitative approximation for our data, suggesting the existence of a common simple generative mechanism for all considered sound sources.
M. Haro, J. Serrà, P. Herrera, and Á.Corral.
Zipf's law in short-time timbral codings of speech, music, and environmental sound signals
. PLoS ONE, vol. 7, issue 3, art. e33993. March 2012.
---
Powered by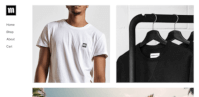 Create your own unique website with customizable templates.